---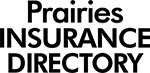 ---
Alberta · Saskatchewan · Manitoba
Insurance Companies · Brokers · Adjusters
with Professional Services, Trades and Suppliers
---
---
Publication History & Background
The Prairies edition replaces the Alberta Insurance Directory, started in 1982. This expanded, regional book now contains full, accurate and up-to-date listings for Alberta, Saskatchewan and Manitoba. More than 1300 general insurance broker offices, 110 adjusting offices, 370 general insurer offices, and 75 insurance association and government-related offices. In addition, 4000 senior insurance personnel are listed and cross-referenced; 80 trades and suppliers also included.
The 360-page coil-bound book is used by general insurance brokers, adjusters and insurers on the Prairies. More than 85% of display advertisers renew their ads in the following year.
Ordering a Directory
2019 edition: Price $60.00 includes shipping. Tax is additional (HST/GST R121162333). Orders from Alberta, Saskatchewan, Manitoba remit $63.00; from B.C. $67.20; Ontario $67.80; elsewhere in Canada, applicable taxes. Please send cheque to Insurance People Media Ltd. To pay by Visa/Mastercard please call 604-874-1001 or 1-800-888-8811. Published annually in December.
Download Prairies Insurance Directory 2019 order form (PDF)
Ad Rates
For Prairies Insurance Directory ad rates, please download the 2019 Rate Card (PDF)
For directory contacts, please see Contact Us.
---
Back to Top