---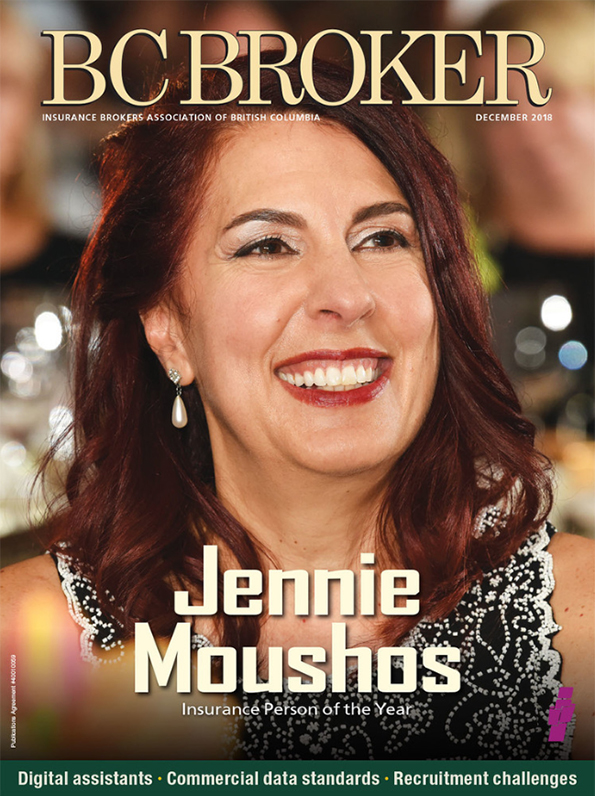 December 2018 Issue
Read it now
View Details

The Voice of the P&C Insurance Industry in B.C.
---
---
BC Broker, first published in 1978, is one of Canada's oldest and most respected insurance trade publications. Membership magazine of the Insurance Brokers Association of British Columbia (IBABC), it is circulated to 95% of B.C.'s property & casualty brokerages.
A journal of record, reference and education, BC Broker prepares brokers for coming regulatory changes and emerging trends, provides coverage and commentary on rulings and legislation and offers intelligent interpretation of insurance-related issues.
HyperArticlesTM in each issue cover technical insurance topics and provide Continuing Education credits. BC Broker also showcases the social side of the P&C industry, including IBABC's annual conference and trade show, golf tournaments, designation graduates, the Salute Insurance Person of the Year and distinguished-speaker events.
Subscription and Classified Advertising
Mailed free of charge to association members. Classified advertising enquiries should be directed to tlancelyn@ibabc.org or call 604-606-8000.
Ad Rates
For BC Broker magazine advertising rates, please contact:
Trish McRae
Publisher / National Advertising Director
Direct 604-875-7761 · Toll-free 800-888-8811
tmcrae@insurancepeople.ca
For other magazine contacts, please see Contact Us.
---
Back to Top